5GG - 8U - $375.00, 6U - 4GG - $250.00
*OPENING CEREMONIES***PIN TRADING***ALL-STAR GAME
**TOURNAMENT FORMAT**
8U
Everybody will play an exhibition game just to get to know each other trade a gift (optional) and get warm up. Following the exhibition rounds, we will have the all-star game on Friday night in prime time which includes participants from all teams in the event. The main event will feature our signature "Power Bracket" which allows for ALL classifications to play in one event while still taking into consideration competitive experience levels.
AWARDS PACKAGE
Elite:
1st place – Ind. Rings and team trophy
2nd place – Ind. Rings and team trophy
Final Four – Ind. medals
Premier:
1st place – Ind. Medals and Team Trophy
2nd place – Ind. Medals and Team Trophy
Final Four – Ind. Medals
Gold:
1st Place – Ind. Medals and Team Trophy
2nd Place – Ind. Medals and Team Trophy
Final Four – Ind. Medals
Each participating team will receive All-tournament Trophy.
*60 minute games – ALL UMPIRE FEES ARE INCLUDED
*Entry Fee Includes 15 team Tournament T-Shirts! Attend our coaches meeting and get 5 game balls!
*Families Welcome! Coolers Welcome! – Come One Come All
*All Entry Fee's due on or before 6/7/2018. Pre-paid after this date. Teams are NOT accepted into the event UNTIL their entry fee is received. We will take as many teams as possible – however, first paid=first in.
Don't miss out on one of the best events of the tournament season!
*Team points to be used for seeding purposes will be the cumulative points show on the IFA website as of on June 9, 2019.
*This tournament is a Championship Level Event and will be played by IFA/VTD official championship rules.
*Any team forfeiting with owe for both umpire fees. Failure to do so will result in removal from the tournament and your team being frozen from playing other VTD tournaments.
6U will be a 3GG.
THIS EVENT WILL BEGIN ON FRIDAY AND ALL TEAMS WILL PLAY GAMES ON FRIDAY.
*Rain Out/Cancellation policy can be found at https://sites.google.com/site/playstoppagepolicies/.
Our signature power bracket is a 4 game guarantee format that contains NO POOL GAMES. It keeps equal competition together through "power" based match-ups and future match-ups. This gives all teams the ability to come and COMPETE at whatever experience level they play. New team??? – Got something for that. Experienced and looking for the best team matchups??? – Be careful what you ask for we got that too! All games are regulation time limits and REQUIRE a winner. All out – All the time! Teams begin in the same bracket in shotgun style format seeded by points. Through the outgrowth of games played – teams maneuver themselves into 1 of 3 divisions – Elite, Premier, or Gold. While all teams are competitive, some are more experienced than others. The tournament continues through these divisions with teams facing opponents that look just like them. All teams find their competitive place and then set their sites on the prize!
8U
Lady Trojans 2k10/11
Texas Crossroads Softball
Waco Storm Fastpitch 8U
Strike Zone Knockouts
NTX Hustle 8u
Xtreme 8U
Centex Buzz Johnson
Dynamite Fastpitch
Aftershock
Pro Form Fastpitch – 8U Vitela
8u American Freedom STX 2K10
GPS Legends 8U Short
Texas Blaze Aleman
Pearland Storm '10
Buzz 8U-Ramos
Diva Legacy 2010
Ingleside Stampede 8U
STX Adrenaline
South Texas Kaos Guerra 8U
Stx Divas 8u
NTX Infinity
Lake Jackson Elite
League City Lightning
Hallsville Dream Team
Texas Blaze – Sauceda
CPYL AMERICAN FREEDOM ATX 8U
Marucci Elite Texas – Thibodeaux
Texas Bombers STX 8u Martinez
Texas Blaze Aleman 11
Okies
Lady Destroyers
Pasadena Rampage
Name of Hotel
Address
Phone Number
Rate Offered
Contact
Booking Link or Code
Hampton Inn
7006 N. Navarro
(361) 573-9911
$95.00 plus taxes
Synthia
Hilton Garden Inn
123 Huvar St.
(361) 573-0303
$99.00 plus taxes
Brian
Click Here
Courtyard Marriott
8002 N. Navarro
(361) 578-3945
$94.00 plus taxes
Brenda G.
Homewood Suites
6705 NE Zac Lentz Parkway
(361) 578-1900
$99.00 plus taxes
Brandy B.
Comfort Inn and Suites
6603 NE Zac Lentz Parkway
(361) 894-6480
$85.00 plus taxes
Jay
Candlewood Suites
7103 N. Navarro
(361) 578-0236
$85.00 (2 Double Beds) or
$80.00 (King) plus taxes
Melissa/Belinda
Click Here
Best Western
8106 NE Zac Lentz Parkway
(361) 485-2300
$85.49 plus taxes
Kevin
La Quinta InnNorth
7603 N. Navarro
(361) 572-3585
$71.10 (2 Full Beds) plus taxes
Samantha
Fairfield Inn and Suites
7502 N. Navarro
(361) 582-0660
$72.00 plus taxes
Keisha
Click Here
La Quinta Inn and Suites-South
3107 S. Laurent
(361) 703-5060
$89.00 plus taxes
Sabrina
Saturday Night Extravaganza
6:00pm – 10:00 PM
Pitch your team tailgate tents in the parking lot of the Sports Complex on Saturday morning – THEN…….Join us Saturday evening for a Tailgate Experience like no other! After a full day of games – bring your best Bar-B-Q (we are talking about a team cookout here!) While dinner's cookin and parents are relaxin – the kids are all going to PARTY!!!!
SPLASH PAD
INFLATABLE VILLAGE
DJ AND MUSIC
FACE PAINTERS
PHOTO BOOTH
MORE FUN THAN HUMANS SHOULD BE ALLOWED TO HAVE!
All completely free (other than what your team wants to eat) for all participants that evening!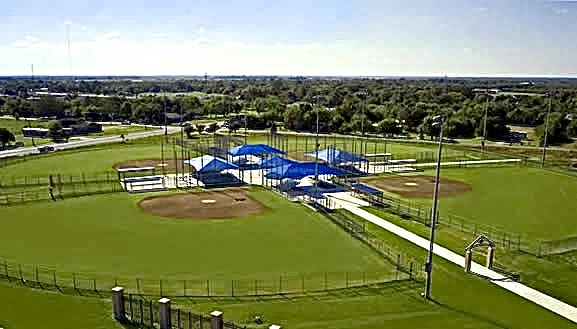 Victoria Youth Sports Complex 105 North Ben Wilson Victoria, TX 77901